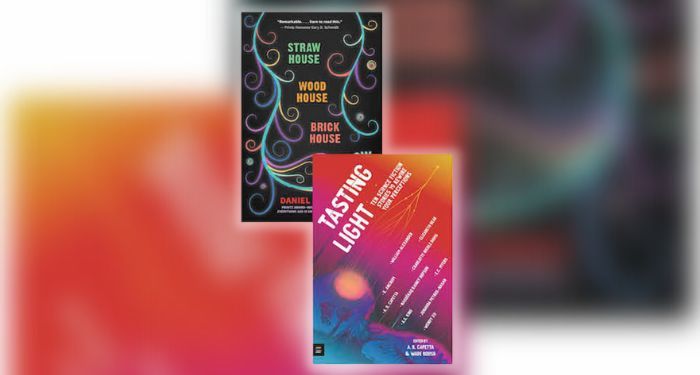 Win a Copy of TASTING LIGHT: TEN SCIENCE FICTION STORIES TO REWIRE YOUR PERCEPTIONS Edited by A.R. Capetta & Wade Roush; and STAW HOUSE, WOOD HOUSE, BRICK HOUSE, BLOW by Daniel Nayeri!
This giveaway is sponsored by MITeen Press and Candlewick Press.
Tasting Light: What does the future hold? Ten speculative short stories by leading young-adult authors imagine what the world could be through the lens of technologies emerging today. Edited by A.R. Capetta and Wade Roush.
Straw, House, Wood House, Brick House, Blow: This bold collection of novellas by Daniel Nayeri features four modern riffs on classic genres that explore universally compelling themes such as identity and belonging, betrayal and friendship, love and mortality:
---
We're giving away three copies of Tasting Light: Ten Science Fiction Stories to Rewire Your Perceptions Edited by A.R. Capetta & Wade Roush and Straw House, Wood House, Brick House, Blow by Daniel Nayeri to three lucky Riot readers! Each winner will receive both books. This sweepstakes is open to residents of the United States (excluding Puerto Rico and all other US territories). Entries will be accepted until 11:45pm, October 25, 2022. Winner will be randomly selected. Complete rules and eligibility requirements available here.